Want to know more about our Constitution?
Hillsdale College is offering a Web-cast seminar. Sign up for the class here.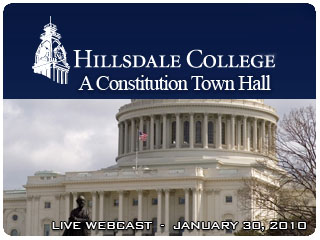 Hillsdale College Constitution Town Hall
"Reviving the Constitution"
A Constitution Town Hall, brought to you by the
Allan P. Kirby, Jr. Center for
Constitutional Studies and Citizenship
When:
Saturday, January 30, 2010
9:00 am – 3:00 pm EST
Note: Webcast will be archived for viewing on-demand after the event.